Top 7 Whiskey Cocktails for Fall
Make good use of your liquor cabinet with these recipes.
A drop in temperature pairs deliciously well with a deep, smoky whiskey. Whether it's Irish, Scotch, bourbon, or rye, these whiskey cocktail recipes will carry you through the change in weather and make good use of your liquor cabinet.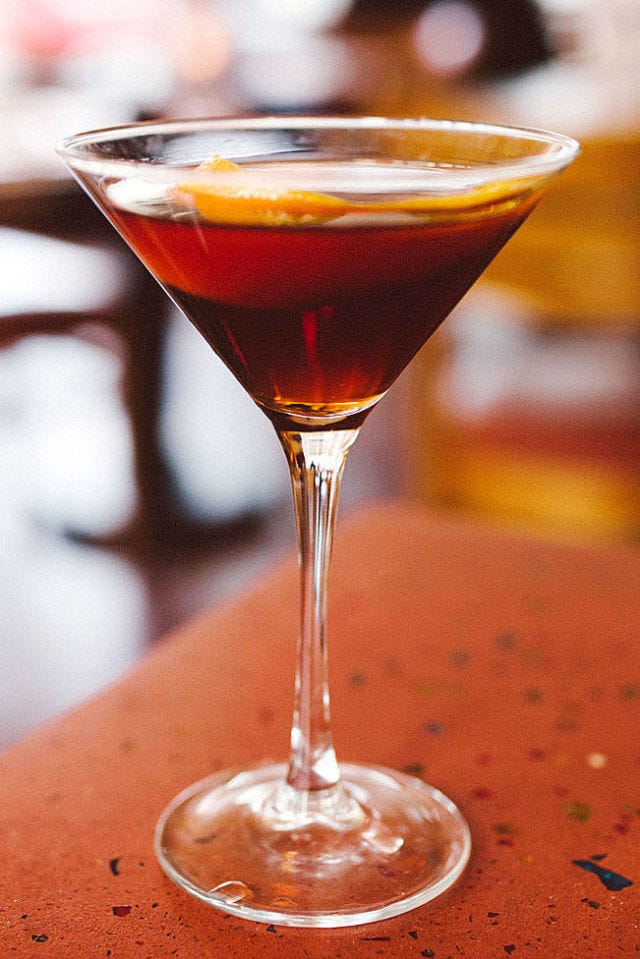 Manhattan
Invented sometime in the late 18th century, the Manhattan goes toe-to-toe with the martini in terms of bold flavor, smooth delivery, and cultural lore. It is also a highly customizable cocktail, with various recipes calling for orange bitters, various vermouths, or even absinthe. During the Prohibition, the Manhattan was made with the only whiskey available, Canadian whiskey. Since those dark, dry times, bartenders have dabbled in Tennessee whiskey, whiskey blends, and bourbon. The proper way to make a Manhattan, however, is with rye whiskey, Italian vermouth, and Angostura bitters—stirred, not shaken. Garnish as you please.
 2 oz. Rye Whiskey
1 oz. Italian vermouth
2 dashes Angostura Bitters
-Stir the rye, vermouth, and bitters well with cracked ice.
-Strain into a chilled cocktail glass and garnish with a twist or a maraschino cherry.
---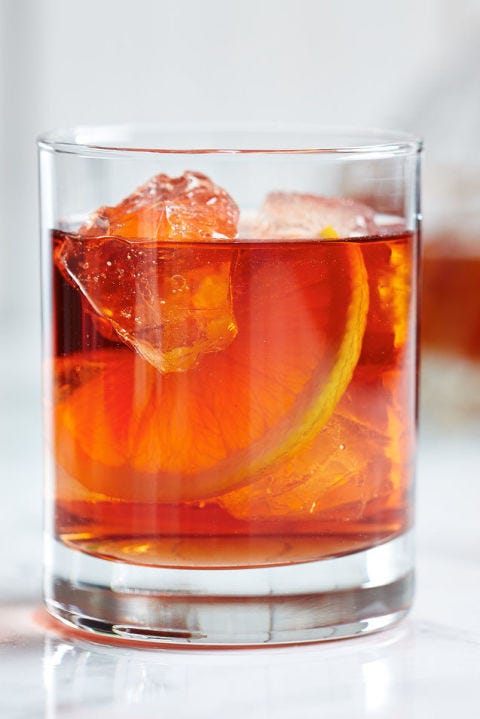 Sazerac
Essentially New Orleans' version of the the classic whiskey cocktail (whiskey, water, bitters, sugar), the sazerac has been around since the middle of the 19th century. It is named after a brand of cognac called Sazerac-de-Forge et Fils, which was the original liquor used to make the drink. The modern version, which uses rye whisky instead of cognac, is the classic sort of cocktail that conjures a bunch of hardened newspaper men talking horse racing results in a smoke-filled pool hall. That is to say, it's not a drink for the faint of heart. But if you love a good whisky cocktail, especially one that's topped off with a splash of absinthe, then the sazerac is tough to beat.
2 1/2 oz. rye whisky
1 sugar cube
2 dashes Peychaud's bitters
1 dash Angostura Bitters
absinthe
lemon peel
old-fashioned glass
-In an Old-Fashioned glass (not a mixing glass; it's part of the ritual), muddle a sugar cube with a few drops of water.
-Add several small ice cubes and the rye whiskey,* the Peychaud's bitters, and the Angostura bitters.
-Stir well and strain into a second, chilled, Old-Fashioned glass in which you have rolled around a few drops of absinthe (no substitute really works, but you can try either a mix of Pernod and green Chartreuse, or Absente) until its inside is thoroughly coated, pouring off the excess.
-Garnish with a twist of lemon peel (some insist that this be squeezed over the drink and discarded; Handy wasn't so picky).
---
Moscow Mule
The Moscow Mule, despite its name and main ingredient, doesn't hail from Russia. It's a red-blooded American cocktail, cooked up in Manhattan in 1941 by three men in the beverage industry: one a distributor, one a maker of ginger beer, and one a maker of vodka. They wondered what it would taste like to add two shots of vodka to ginger beer and a squeeze of lime. It tasted good. Thus the Moscow Mule, named after their location at the Chatham Hotel, the birthplace of "Little Moscow," was born.
Or so the legend goes. The more likely story is that Wes Price, head bartender at the Cock'n Bull restaurant in Los Angeles, invented it while trying to clean out some dead stock from the restaurant's basement. Either way, it's a drink that, with its signature copper mug, has become extremely popular over the years. And luckily, it's one that's extremely easy to make.
1/2 oz. lime juice
2 oz. vodka
6 oz. ginger beer
-Squeeze lime juice into a Collins glass (or Moscow Mule mug) and drop in the spent shell.
-Add 2 or 3 ice cubes, then pour in the vodka and fill with cold ginger beer (not ginger ale, although what the hell).
-Serve with a stirring rod.
---

Old Fashioned
Basically the OG cocktail, the first reference to this drink—as well as the first published definition of the word "cocktail"—came in the May 13, 1806 edition of a newspaper called The Balance and Columbian Repository. It was there that the paper's editor referred to a cocktail as consisting of spirits, bitters, water, and sugar.
As for the name "Old Fashioned," that didn't come about until 1881, when a bartender at the Pendennis Club in Louisville, Kentucky made the drink—this time with bourbon, bitters, club soda, muddled sugar, and ice—to honor Colonel James E. Pepper, a prominent bourbon distiller, who eventually brought it to the Waldorf-Astoria Hotel bar in New York City.
All of which is to say, it's a cocktail that's been around for a while. And for good reason. The subtle sweetness makes it smoother than a lot of other whiskey-based drinks, plus it just has that aura of Rat Pack cool. Fortunately, it's also an easy cocktail to make. Almost as easy as it is to drink.
2 oz. rye or bourbon
3 dashes Angostura Bitters
1 Sugar Cube
Club Soda
1 old fashioned glass
-Place the sugar cube (or 1/2 teaspoon loose sugar) in an Old Fashioned glass.
-Wet it down with 2 or 3 dashes of Angostura bitters and a short splash of club soda.
-Crush the sugar with a wooden muddler, chopstick, strong spoon, lipstick, cartridge case, whatever.
–Rotate the glass so that the sugar grains and bitters give it a lining.
-Add a large ice cube.
-Pour in the rye (or bourbon).-
Serve with a stirring rod, and garnish with an orange slice if you're so inclined.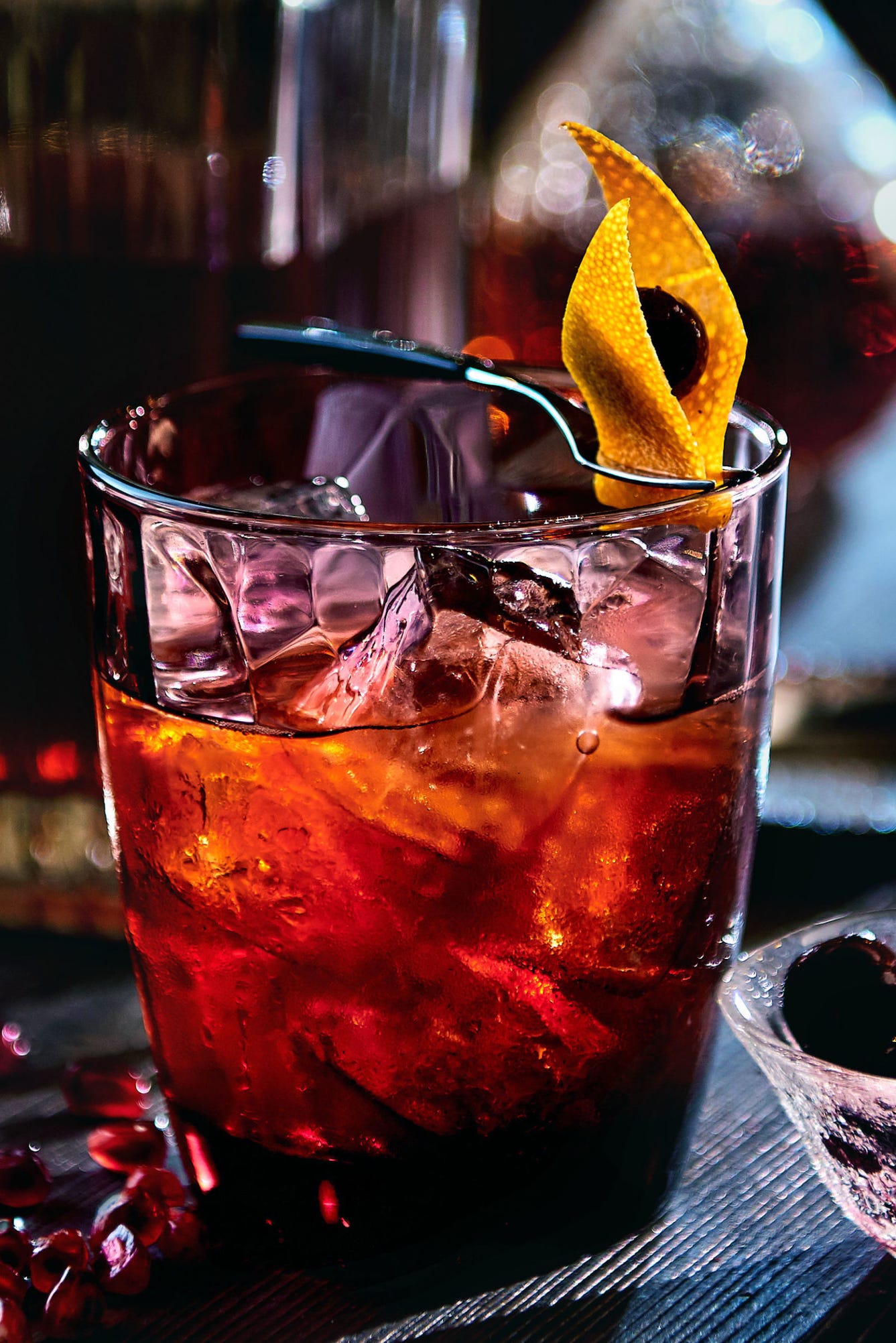 Chancellor
Scotch whisky, as we have observed elsewhere, does not readily lend itself to cocktails: there's a prickly, stiff-necked pride to the stuff that makes it unwilling to blend. There are exceptions (well, the Rob Roy, anyway, and the Scotch Highball), but in general, they suck. Most of 'em, it's safe to say, are Prohibition flimflams, ways to tart up the only stuff that was flowing freely. (Before the Great Experiment, Scotch wasn't particularly popular on these shores. To order it in a bar more or less marked one as a weak-wristed, Limey-loving cake-eater, but once good rye and bourbon got scarce, the gents were more willing to compromise their standards of masculinity).
Which brings us to the little-known Chancellor. All the standard sources are silent on where it comes from, but we wouldn't be a bit surprised to find it had been spawned in the refectory of one of the less hidebound Scottish colleges, "Chancellor" being what they call the presidents of their universities over there. It may even turn up in the Mess Book of the Queens Own Cameron Highlanders or some such prop of the old Empire; those chaps always had plenty of port around, and once they hit the shrapnel-churned fields of France, they would've been practically brushing their teeth in vermouth. But then again, who knows? It could've been cooked up by a Lithuanian pencil-painter in a coal-cellar-turned-speakeasy in Union City, New Jersey.
Whoever formulated it, the Chancellor remains a dry and slightly mysterious little fiddle — not unlike a Perfect Manhattan, with port for the sweet vermouth and Scotch for the rye — that screams out "club chair," "billiards," and "smoking jacket." Point of advice: Don't order it in an Irish bar. Or any bar, for that matter — better to err on the side of caution.
2 ounces whiskey — blended Scotch whisky
1 ounce ruby port
1/2 ounce vermouth — French vermouth
2 dashes orange bitters
Stir well with cracked ice, then strain into a chilled cocktail glass; it should pour a luminous garnet red.
---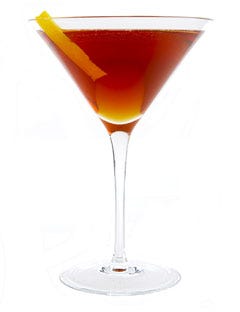 Emerald
As we've observed elsewhere, there aren't many Irish whiskey drinks on the books. What's more, most of those you do find are stupid attempts at green-beer, everybody's-Irish-on-St. Paddy's Day blarney (from our scorn we except, of course, the oft-abused but thoroughly divine Irish Coffee). No matter how dewy-eyed for the misty glens and chimney-snugs of the Auld Sod, we shall not be persuaded to sample the portable bog of Irish whiskey, green crème de menthe, and green Chartreuse variously known as the Erin's or Everybody's Irish, the Shamrock or the Friendly Sons of St Patrick (four cute names, one vile drink), and especially not when it is garnished, for good measure, with a green olive. Feh!
One of the only mixed drinks with which we'll repeatedly toast the Emerald Isle is the Emerald. There's not much imagination in it, sure, its logic being, "If you mix rye, which they drink in New York, with vermouth, you get a Manhattan; therefore, Irish whiskey and vermouth must be an Emerald." But it's delightfully smooth and mellow. And if the reasoning's a little screwy, at least the only thing green about the drink is its title.
In fact, the Emerald presents rather an ethical dilemma: Like the original Manhattan, it contains a dash of — oops! — orange bitters. But maybe that's just to remind the sons of Erin that they shouldn't rest until the Saxon yoke is lifted from their fair and blooming isle and all true blood, bone, and beauty can flourish in an air of tranquil peace and liberty. Or maybe someone just wasn't thinking. In either case, if your principles won't allow you to cross your lips with orange, you can leave the bitters out for an Angelo-and-Mike, or switch to Angostura bitters for a Blarney Stone. Or you can leave them in, but down your potion with a lusty, "To our enemies — may they be drinking bog water while we're drinking whiskey! May their obituaries be written in weasel's piss! May they shit sideways! May the hairs on their asses turn to drumsticks and beat them down to hell!" That's what we do, anyway.
2 ounces whiskey – whisk(e)y
1 ounce vermouth — Italian vermouth
1 dash orange bitters
Stir well with cracked ice, then strain into a chilled cocktail glass. We recommend using Irish whiskey.
---
Irish Coffee
A small band of unfortunate travelers huddles together on a seaplane dock by the River Shannon. They've been flying for ten hours in bad weather, in an abortive attempt to reach Canada. Joe Sheridan, the terminal's barman, observes their condition and takes action. Whiskey. Sugar. Hot coffee. Cream. The winds calm the fury of their blowing, the clouds relinquish the gloom of their darkness, and the sun grants a beam of its brightness to anoint the steaming chalice. And behold! The assembled bards of Erin strike a golden chord on their cunningly worked harps. For thus is born Irish Coffee, a mighty tonic for all who travel the ways of the earth and even those who sit on their asses all day in the dark corners of taverns.
You'd think it would be impossible to be unhappy while sipping an Irish Coffee. Yet, seated at the bar, we've noticed far too many times that the face behind the traditional stemmed glass mug is tinged with sadness. Drink can be a comfort, at times, but even a warm, generous drink such as this can prove to be a cold consolation. We sip the promising cup in hope, but things are not better. In our mouths, yes. In our innards, aglow, yes. Even in our veins. In our hearts? No. Go home.
Okay, things aren't that bad. It's just that it's dark in here, and kinda quiet, and you know how you get long about the middle of a winter afternoon. It'll pass.
2 ounces whiskey — Irish whiskey
5 to 6 ounces coffee
2 teaspoons sugar
heavy cream
our the whiskey, coffee, and sugar* into a stemmed, heated glass mug. Stir, then top off with a thick layer of lightly whipped heavy cream. If too lazy or inebriated or depressed to bother whipping the stuff, just pour an ounce or two in over the back of a spoon. In either case, don't stir it in, and really don't drizzle crème de menthe over the top.
* Sheridan's original formula seems to have called for brown sugar.
Credits (article source): esquire.com