High Fee of Bitcoin Transaction! Effects And Solutions
It is pretty easy to face transaction fees which cost $20 or more. Some users in certain cases pay even $50 or more. For a decentralized currency designed to replace banks, these costs are astonishingly high. In most cases, the fee is a fixed fee based on BTC value rather than its actual fiat currency price. For example, some wallets and exchanges maintain a 0.001 BTC fee at all times. Fee was not a big problem when Bitcoin was at $100 or $1000, but it cause problems at the current price. Amount of 0.001 BTC fee represents a cost of around $16 per transaction.
Another BitCoin transaction, take a careful look of the fee amount!
With the current Bitcoin price rise, these issues only become more apparent. A higher price means the fees go up in fiat currency value as well. It is evident this situation cannot be sustained for much longer. Ref[1]
As a result, Steam ends support for bitcoin due to high fees and volatility.
Valve has stopped accepting bitcoin for Steam purchases, the game developer said Wednesday, citing the cryptocurrency's high fees and volatility as the impetus behind the move.
The decision was announced the same day bitcoin rose 18.2 percent to cross the $13,000- and then $14,000-per-coin trading milestones for the first time.
"These fees result in unreasonably high costs for purchasing games when paying with bitcoin," Valve said in a statement. "The high transaction fees cause even greater problems when the value of bitcoin itself drops dramatically." Ref[2]

Read More:
Anyway, for large-scale transactions worth at least a thousand dollars to millions of dollars, a transaction fee of over $16 is not relatively high compared to the global banking system. As Ari Paul, the co-founder of BlockTower explained in an interview with Business Insider, if Bitcoin's current use case is a robust store of value and it is trying to compete against gold and the international offshore banking industry, high transaction fees could still be dealt with, considering the complexity and efficiency of banking services.
Still, for Bitcoin merchants, specifically the tens of thousands of Bitcoin-accepting merchants in Japan, the current Bitcoin transaction fees could be difficult to handle. Ref[3]
Ethereum Now Handles More Transactions Than All Digital Currencies Combined, with sub-penny fees.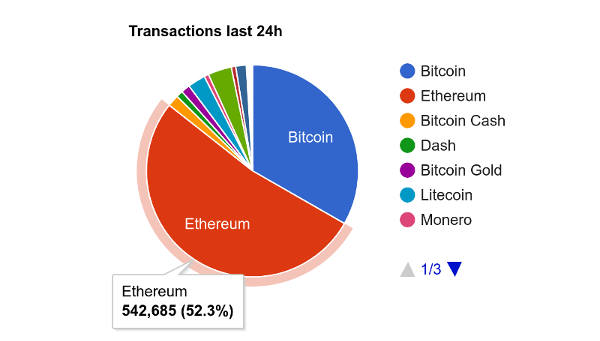 Ethereum, the barely two years old digital currency, now processes more transactions than all other digital currencies combined, including bitcoin.
Ethereum currently processes 52.3% of all cryptocurrency transactions, followed by bitcoin at 33%, while Bitcoin Cash, currently third in market cap, is handling only 1.8% as pictured above.
More than half a million transactions were processed yesterday by ethereum, a level that is now becoming common for the platform, rising considerably since early last year when it stood at just 10,000.
Ethereum's current transaction levels.
While bitcoin is currently processing around 330,000 transactions, with no change in volumes for an entire year despite considerable growth and a claimed increase in capacity.
Bitcoin's transaction levels have been moving very much in a straight line due to a limited 1MB capacity. Although segregated witnesses (segwit) claimed to double it, in effect it has added as good as no capacity since its activation in August 2017.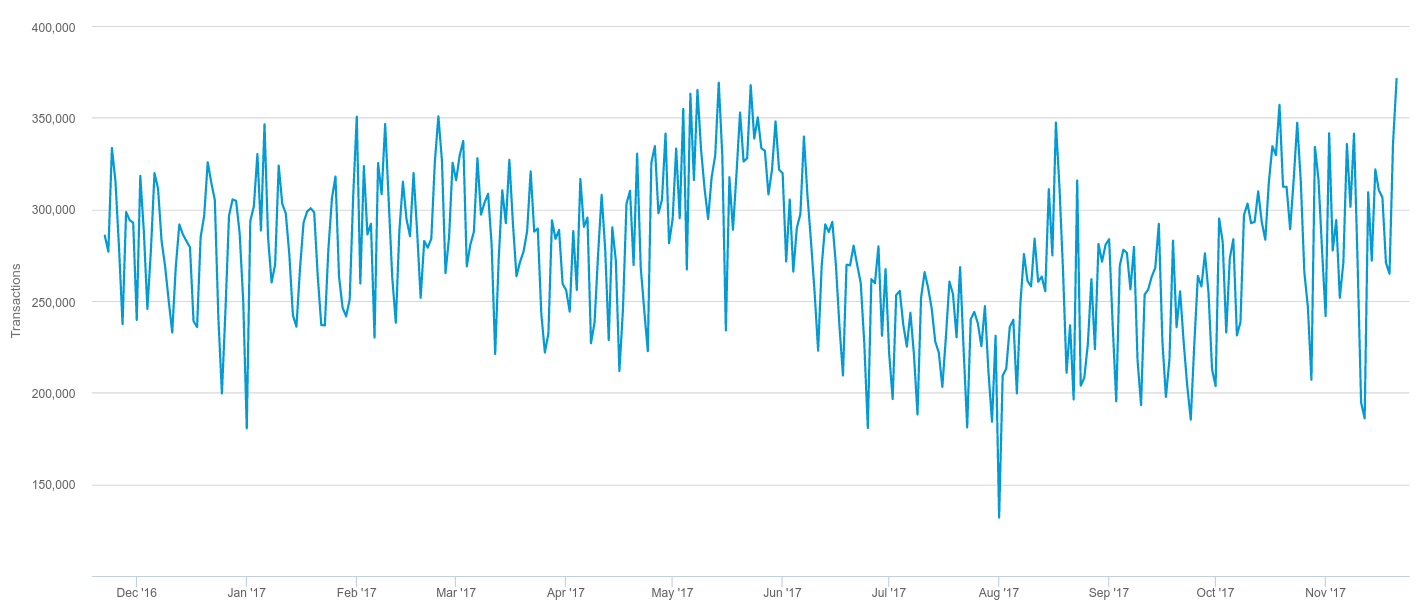 In contrast, ethereum's transaction levels have continued to grow with the network able to handle probably double the current amount of demand without any congestion and at sub-penny fees.
Some suggest that much of this demand is due to dapps and tokens built on top of ethereum, but that may make the network itself more appealing due to increased network effects. Ref[4]
Zero transaction fee (IOTA)

MIOTA, the token offered by the IOTA foundation, had seen a tremendous growth in the past few weeks. The organization launched a new data marketplace partnering with 20 tech firms including Microsoft and Fujitsu, following which MIOTA's value skyrocketed. The token broke all records and jumped to be the 4th largest coin from the 9th spot in mere two days.
With their new blockchain tech, IOTA has offered clients some pretty unique features like zero fees, infinite scalability, fast transactions, secure data transfer, quantum-proof cryptography, etc. Their network also has no transaction fees. With a jump in the value of IOT/USD this week, the market cap of this coin again crossed an all-time high above $4 billion, but with a drop in the value, the market cap currently settled around $3.4 billion. Ref[5]
Feature Image: IQ Option